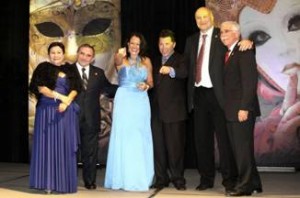 El Dorado Spa Resorts & Hotels and Azul Hotels by Karisma, leaders in gourmet all-inclusive beachfront resorts in the Riviera Maya, announced winners from the fourth annual Gourmet Inclusive Vacation Consultant (GIVC) Awards and Sales & Marketing Forum. The event recognized exemplary travel professionals performing at the top of their classes. Some of the event's most significant awards included Top Producers for Azul Hotels, Top Producers for El Dorado Spa Resorts & Hotels, Hall of Fame, and Four Diamond recognition.  This year's  Hall of Fame Award was presented to Robert and Hayley Whorrall of Beach Bum Vacation's. Pictured from left to right: Sra. Dolores Lopez Lira & Sr. Jose Luis Martinez (Owners of El Dorado Hotels), Hayley & Robert Whorrall (Both GIVC agents), Sr. Lubo Krstajic (Executive VP Sales & Marketing) and Mr. Mandy Chomat (VP Sales & Marketing).
The GIVC Awards and Sales & Marketing Forum, which took place at El Dorado Royale, A Spa Resort, by Karisma on November 16 – 19, 2011, drew 175 of the most accomplished and dedicated GI Vacation Consultants from the U.S. and Canada. El Dorado Spa Resorts & Hotels and Azul Hotels have awarded a special group of travel agents the "Diamond" status, the highest level of recognition for GI Vacation Consultants. This special status recognition is achieved as a result of exceptional knowledge and support of El Dorado Spa Resorts & Hotels and Azul Hotels.
"We were thrilled to host the fourth annual GIVC Awards and Sales & Marketing Forum, honoring the elite group of well-trained agents who are exceptionally devoted to exceeding the needs and desires of their clients," said Mandy Chomat, vice president of sales & marketing for Premier Worldwide Marketing, the worldwide representative of El Dorado Spa Resorts & Hotels and Azul Hotels. "GI Vacation Consultants demonstrate an unparalleled commitment to service by offering consumers information and valuable insight about our adults-only and family-friendly properties, including recent renovations and new amenities, guaranteeing a positive experience from start to finish. We are honored to recognize the successes of these valued partners and look forward to hosting the next annual event."
El Dorado Spa Resorts & Hotels and Azul Hotels revealed the much anticipated winners of the GIVC awards during the final evening of the elaborate four-day event. Distinguished winners included Robert and Haley Whorrall of Beach Bum Vacation, who took home the most coveted award of the evening, the Hall of Fame, which is given to an individual who made a significant difference to the El Dorado Spa Resorts & Hotels and Azul Hotels organization resulting in an overall increase in business. A selection of GI Wedding Consultants from DestinationWeddings.com, All About Honeymoons, Luxe Destination Weddings, among others were also recipients of a GIVC award. The most prestigious awards were given to Four Diamond recipients including Brittany Schiffler, Thomas Carr, Midge Kramer, Nancy Finn, Marty Boehlke, Pamela Park, Matt Soloway, and Diann Bengston.
Launched in 2008, the GI Vacation Consultant Program is limited to an exclusive group of travel agents who are obligated to meet specific standards and requirements in order to exceed extremely high expectations with regard to customer service and support. Not only do GI Vacation Consultants receive benefits from the program – from marketing tools to added incentives to offer consumers – but also travelers who book a vacation with the specialized agents are privy to exclusive deals and on-property VIP recognition as GIVC guests, among other advantages. The fifth annual GIVC Awards will be held in fall 2012.
With the Gourmet Inclusive experience, El Dorado Spa Resorts & Hotels and Azul Hotels offer indulgent pampering with unparalleled personal services such as champagne and smoothie check-ins, full-service concierge, 24-hour room service, world-class chefs, gourmet cuisine served a la carte and sommeliers who suggest perfect pairings from private label wine sections.
Romance is incorporated into every aspect of the adults-only El Dorado Spa Resorts & Hotels where couples reconnect with in-room Jacuzzi tubs, private swim-up suites and Infinity pool terrace suites, beachfront candlelight dinners, chocolate fondue under the stars, Aguas del Amor — private, exotic open-air showers — and Beachfront Sky Massages, where guests receive their treatments in total privacy on a beautifully designed, raised palapa on the beach surrounded by nothing but ocean and air.
Azul Hotels provide an ambiance that appeals to every type of guest, from families and couples to girlfriend getaways. The chic and hip décor draws a more sophisticated traveler, while family-friendly amenities such as the exclusive Fisher-Price Kid's Club program, Pack & Play offerings, and gourmet Gerber baby food make traveling a breeze for families. As a part of the Gourmet Inclusive luxury vacation experience, guests will enjoy gourmet a la carte dining, premium alcoholic and non-alcoholic beverages, full-service concierge, king size beach beds and beach butlers who provide tanning supplies, reading materials, and Gourmet Bites.
Karisma Hotels & Resorts, www.karismahotels.com