Viking River Cruises romanced a group of 20 TRAVELSAVERS agents from the U.S. and Canada and home-based NEST travel agents from the U.S. as they blissfully drifted along the lovely Danube River on November 11-19, 2011. The 8-day journey was hosted by Clelia Riley (Inside Sales Partner – National Accounts for Viking River Cruises) and Mary Grimes (Business Development Manager, TRAVELSAVERS).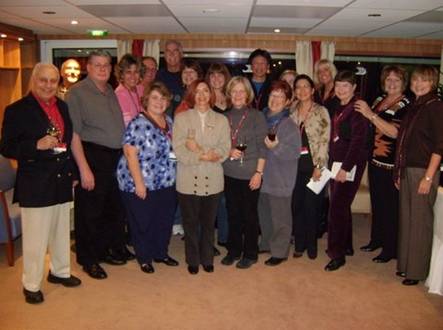 "This FAM was a great success, and we felt proud to be in partnership with a travel supplier that delivers on its promises with such high standards," said co-host Mary Grimes , Business Development Manager, TRAVELSAVERS. "The service was impeccable; the cuisine was top-notch; and the Program Director did an amazing job handling last-minute changes to the itinerary in response to low water levels on the river. Every agent on the trip said over and over that it was wonderful experience and they had a fantastic time. I have no doubt that our agents will be booking more Viking River Cruises because of this great personal experience they had with the line and its staff."
Participating agents explored the grand cities and quaint villages along the celebrated Danube River . They saw both sides of Hungary 's capital — traditional "Buda" and more cosmopolitan " Pest " — and from Fishermen's Bastion, they witnessed how the river divides this fascinating city. Agents experienced Vienna 's imperial architecture and gracious culture, and toured riverside towns in Austria 's Wachau Valley . And in Germany , they discovered a baroque cathedral and strolled cobbled streets lined with half-timbered houses. They also savored the tastes of authentic dishes, heard local legends, and learned first-hand why Strauss immortalized the "Blue Danube" in his famous melody of the same name.
Phyllis Rosewell of Traveling with Phyllis, a home-based NEST agent, said of her experience: "Even though I have sold Viking in the past, having now experienced it myself, I think that this is a great way to see and enjoy an area. I found that it was both relaxing and yet we got to see so very much…I feel the company and the ships are really top-of-the-line…I'm very confident about being able to talk to clients about this entire travel experience."
Jaime Moore of Canyon Lake Travel, a TRAVELSAVERS agency, commented: "Jeff and I just wanted to say thank you so much for inviting us on the cruise. We really enjoyed it and I already have some interest with friends and clients for 2012!"
Network of Entrepreneurs Selling Travel (NEST), www.jointhenest.com, Viking River Cruises, www.vikingrivercruises.com