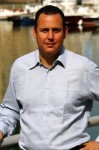 Sol Kerzner, Chairman of Kerzner International Holdings Limited, which through its subsidiaries, is a leading international developer and operator of destination resorts, casinos and luxury hotels, has announced the appointment of Alan Leibman as Chief Executive Officer of the Company, effective immediately. Sol Kerzner will remain as Chairman of the Company and will work closely with Leibman on the overall corporate strategy and planned growth of the Atlantis and One&Only brands worldwide.
"Over the last 17 years Alan has contributed extensively to Kerzner's success, and his vast experience in this industry makes him an ideal CEO to lead Kerzner into the future," said Sol Kerzner, Chairman of the Kerzner International Board of Directors. "Alan has a great deal of passion and commitment to both our employees and our guests. As CEO, Alan will lead the executive management team and will be actively engaged in all aspects of the business. I firmly believe this new organizational structure and focus will best ensure the future success and growth of Kerzner International."
Leibman joined Kerzner in 1994, and has held positions of strategic importance, including Chief Operating Officer of Atlantis, Paradise Island in the Bahamas, President/Managing Director of the early development phase of Mazagan Beach Resort, President/Managing Director of Atlantis, The Palm in Dubai and most recently, Regional President of Europe, Africa and the Middle East.
"I am truly pleased to take on this new role as CEO at this exciting time in the Company's history," said Alan Leibman. "I have been fortunate enough to have learned and developed under Sol's leadership for the past 17 years and couldn't have asked for a better mentor. I plan to continue executing on the same distinct entrepreneurial vision and spirit that he instilled in the Company. Working closely with Sol and the executive management team, we will continue growing Kerzner as a management company, and getting back to doing what we do best – designing and managing world-class destination and luxury resorts under the Atlantis and One&Only brands. Kerzner has the best and most talented workforce across multiple continents and I look forward to working with them for many years to come."
Leibman was born in South Africa and grew up in the world of hospitality, food and wine. He worked in his family's gourmet food and wine companies in Houston, Texas before attending the American Culinary Institute in Hyde Park, New York and Florida International University where he earned a Bachelor of Science degree in hotel and restaurant administration.
Kerzner International, www.kerzner.com