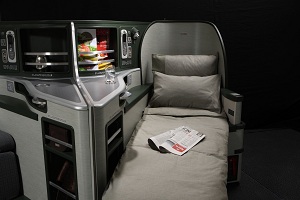 EVA Air unveiled a new-generation business cabin named Royal Laurel Class in Taipei, Taiwan on May 3, 2012. The airline is investing US $100 million to upgrade the top cabins on all of its Boeing 777-300ERs with new, fully lie-flat seats and inaugurating the transformed service on a June 2, 2012 Taipei – New York flight.
EVA is configuring its Royal Laurel Class cabins with 38 seats in a reverse herringbone layout that enables passengers at windows to look out without turning and those in the center to easily dine and talk with travel companions. Or passengers can use convenient privacy panels to establish cozy inflight cocoons for rest or work. Seats are approximately 65 centimeters (26 inches) wide, recline 180 degrees and stretch out almost 2 meters (79 inches). Each passenger environment includes features such as a coat hook, space for shoe stowage, handy nooks for water, glasses and reading material and a seat-side table for beverages, snacks or writing materials.
In addition, EVA is outfitting its new Royal Laurel Class seating environments with the latest audio and video technologies, starting with 15.4-inch touch screens and high-fidelity noise-canceling headphones. Passengers with personal electronic devices can work or relax using multi-function AV-input outlets, USB and iPod ports on a system equipped with software such as Media Player, Photo Viewer and PDF Reader. Power sockets are 110V.
EVA's inaugural Royal Laurel Class service will operate nonstop between Taipei and New York on Mondays, Thursdays and Saturdays. EVA also offers a fourth flight on the route on Wednesdays. Starting on Monday, June 18, 2012, EVA is adding a fifth weekly New York flight. By the end of August this year, EVA will be offering Royal Laurel Class on all of its New York flights. It will introduce its Royal Laurel cabins on Los Angeles service by the end 2012 and begin to roll it out on San Francisco, Toronto, Paris, Amsterdam and London flights in 2013. It will complete the cabin upgrades by August 2013.
EVA Air, www.evaair.com