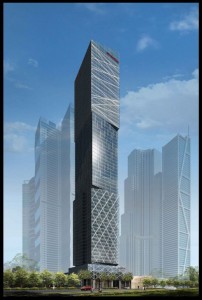 Mövenpick Hotels & Resorts is stepping up its global expansion with a continued focus on Asia and the announcement that it is to manage two new hotels in Vietnam and the Philippines.
The new properties are the new Mövenpick Resort & Spa, Quy Nhon, in Vietnam and the soaring tower of Mövenpick Hotel Makati, Makati City, part of Metro Manila in the Philippines.
The move is in line with the upcale Swiss hospitality company's strategy to create a balanced portfolio of approximately 25 hotels in each of the regions where it operates – Europe, Africa, the Middle East and Asia.
Mövenpick Hotels & Resorts currently operates 72 hotels and has a further 30 projects under development – from Paris to Palawan.
The Mövenpick Resort & Spa, Quy Nhon is the company's third hotel in Vietnam following openings in Saigon and Hanoi. The new resort will be built to environmentally sustainable standards on an isolated cliff overlooking the beach and corals of the South China Sea. It is scheduled to open at the end of 2015.
The Mövenpick Hotel Makati, meanwhile, is set to open in 2016 and is the third property to be operated by the Swiss company in the Philippines after the Mövenpick Resort & Spa Cebu and a stunning new fusion of eco-adventure and lifestyle on the exclusive Huma Island, Palawan.
Based in the Mövenpick Hotel & Residences Tower, to be built in the heart of Makati City in fashionable Picar Place, the new hotel will feature 304 rooms and suites as well as 250 residences.
This year the company will open the doors to two of its newest hotels; the recently renovated 286-room Mövenpick Suriwongse Hotel Chiang Mai in the centre of the city's legendary night bazaar and a Mövenpick property in Huma Island, a private island in the stunning Philippine archipelago of Palawan.