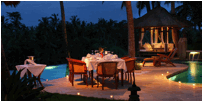 Viceroy Bali offers a wealth of pleasures and treasures to its guests; even many who are loyal repeat visitors find something new and special each time. If one were pressed to compile a list of the top ten reasons to visit, however, these unique attributes would surely make the list:
Privacy. The complete seclusion afforded by each of the resort's 25 bespoke pool-villas is quite the allure. Guests will find that the luxury and beauty of the Balinese themed accommodations creates a delightful intimacy and serenity.
Activities. From whitewater rafting to biking a volcano to a Balinese cooking or dancing lesson, Viceroy Bali offers plenty for those looking for a culturally and ecologically enriching experience.
The Helicopter Port. Yes, the resort has a helicopter port for long range helicopters up to two and a half tons.
Ubud. The quirky and arty village of Ubud is just down the ridge, meaning shoppers, temple-explorers, bicyclers, elephant riders, and monkey fans have easy access to one of Bali's most diverse and thriving cultural centers.
CasCades. The restaurant serves classic gourmet cuisine with a twist of international style.
Lembah Spa. Also perched over the Petanu Gorge is the renowned Lembah Spa, which blends Western knowledge with Balinese wisdom.
The Service. The management and staff of Viceroy Bali professional, and the resort is one of the very few in Bali to have a dedicated guest services manager devoted to satisfying requests.
The Ambience. The resort has incorporated the artisanal sense of Bali into its design, decorating, and landscaping.
The Weather. Bali temperatures range from 73 to 82 degrees in the mountains (Ubud area) and 82 to 95 degrees on the coast throughout the year.
Viceroy Bali, www.viceroybali.com