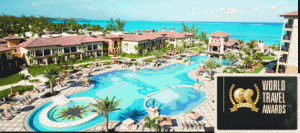 The paradise islands of Turks & Caicos will become the focus of the travel and tourism industry when they host World Travel Awards (WTA) on 14th September 2012.
WTA's Caribbean & The Americas Ceremony 2012 will take place at the family-favourite all-inclusive resort, Beaches Turks & Caicos Resort Villages & Spa. Decision-makers from leading travel organisations across the Caribbean and Americas are scheduled to attend.
WTA was launched in 1993 to acknowledge and recognise excellence in the global travel and tourism industry.
The Caribbean & The Americas Ceremony 2012 marks the second leg of WTA's Grand Tour, a global search for the world's leading travel brands, which also includes regional heats in Dubai, Nairobi, Singapore and The Algarve. The winners of these legs will then go head-to-head at WTA's Grand Final, which takes place at The Oberoi, Gurgaon, New Delhi, India on 12 December 2012.