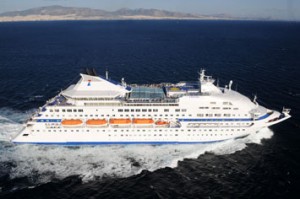 For the 2013 Eastern Mediterranean sailing season, Louis Cruises has unveiled a new itinerary – an 8-day/-7night "Greece and Turkey" cruise program – which introduces two new destinations in the Aegean, the island of Chios and the island of Symi.
The new Greece and Turkey program presents cruise travelers with a full day in Istanbul, Aghios Nicolaos, Santorini and an extended stay in Mykonos. Scheduled to operate from April 26th to October 25th of 2013, the cruise will depart weekly and will take travelers to experience the distinctive islands of Chios – known for its sweet, aromatic Mastic trees and Symi.
Louis Cruises is also introducing a new port of embarkation for the 8 day/7 night itinerary, which will be Athens' port of Lavrion, conveniently located close to Athens International Airport. With Lavrion as the new embarkation port in Athens, sailing time to Istanbul is reduced – providing guests more time to enjoy their excursion.
Louis Cruises, www.louiscruises.com