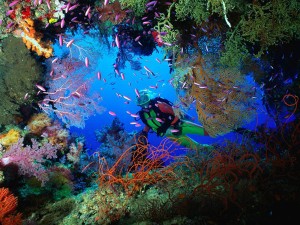 Caradonna Worldwide Dive Adventures has some great offers to share with travel agents, including:
Bahamas Out Islands
Did you know that the Bahamas Out Island has the Instant Savings Credit and a Diver Credit so not only can you save your clients up to $350 per booking on 6 night stays or longer they can also save $50 per diver. For a total savings value of $450 for a party of 2 divers
This is a great sales tool for you to add value to your client's trip and earn commission on all of the package components including diving – www.caradonna.com/Scuba-Diving-Vacations/Specials.aspx?SpecialsSubGroup=BS 
Curacao Best Deals
The Caribbean island of Curaçao is celebrating its "Curaçao Best Deals!" fall promotions party for travel starting August 15 through December 15, 2012.
Take advantage of great dive package offers. Caradonna agents are Curacao specialists- well traveled and knowledgeable of this destination,
www.caradonna.com/Scuba-Diving-Vacations/Specials.aspx?SpecialsSubGroup=Cur 
BOGO Offers
What is a BOGO Offer- Buy-One-Get-One Free and there are destinations all over the world offering great BOGO deals.
Anthony's Key Resort Roatan, Honduras – a great resort for families where you can enjoy the Dolphin Encounter, snorkel, scuba diving and swimming.
www.caradonna.com/Honduras/Anthonys-Key-Resort-Winter-Get-Away-Special.aspx 
Plaza Resort. Bonaire– Second Diver, dives free at this famous Bonaire dive resort.
www.caradonna.com/bonaire-plaza-resort-4D-Special.aspx 
Cayman Sister Islands, Cayman Brac and Little Cayman
Do you have clients who are interested in the Caymans but are having hard time finding wholesalers who are specialists?
Caradonna agents have sold the Cayman Sister Island for close to 30 years and can help you plan the best vacation for your clients.
Exotic and Pacific Locales, Customized World Destination Travel
Caradonna specializes in scuba diving travel to some of the most unique and beautiful locations in the world.  They specialize in dive travel but can also customize any package for your non-diving clients to locales that few other wholesalers offer.
With their first-hand experience and well-travelled staff there is hardly a place on earth that they have not been to and can help you put together a trip of a lifetime for your clients. All while putting more commission in your pocket.
Caradonna is also offering scuba diving vacation specials for several areas:
www.caradonna.com/Scuba-Diving-Vacations/Specials.aspx?SpecialsRegion=PACIFIC 
www.caradonna.com/Scuba-Diving-Vacations/Specials.aspx?SpecialsRegion=EXOTIC
Caradonna Worldwide Dive Adventures, www.caradonna.com