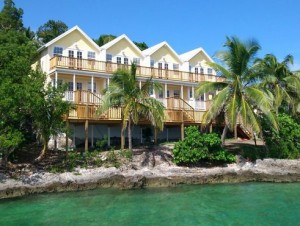 The Bluff House Resort & Marina has announced the addition of eight new guestroom suites as new ownership works to embellish a classic British Colonial inn experience.
New General Manager Christopher Pollock, a veteran hotelier who grew up in The Bahamas, said with the makeover completed, The Bluff House has managed to retain its British Colonial charm and now offers guests a choice of updated waterfront suites and a selection of one, two and three-bedroom villas.
The new guest suites overlook the Sea of Abaco, are decorated with a British Colonial vibe and provide a stunning view of the Sea of Abaco.
The Abacos are known as one of the world's top boating and sailing
destinations due to its calm sea surrounded by islands featuring quaint colonial towns, three golf courses, miles of beaches and great fishing and diving.
There's also the new addition of the Bluff House Beach Bar and Grill, new dive and fishing packages as well as one of the Caribbean¹s most memorable restaurants and bars, The Jolly Roger.
Bluff House, 800-745-4911, www.bluffhouse.com