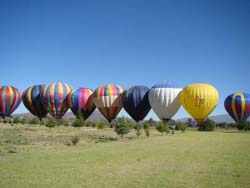 Enjoy the amazing archaeological ruins of Teotihuacan from the sky or try to visit the Enigmatic Blue House of Frida Kahlo & Diego Rivera.
With Mexitours'  hot air balloon rides, visitors can enjoy the majestic aesthetic of the Pyramids of the Sun and the Moon, seen from an almost virgin angle.  After a brief induction and some instructions provided by the balloon pilot, guests will fly during one hour approximately above the City of Gods.
A DAY WITH FRIDA & DIEGO (MÉXICO CITY)
A full day of the Frida Kahlo and Diego Rivera Museums is also available in Mexico City.  Take a visit to Frida Kahlo's blue house and her neighborhood in Coyoacan, a delightful place outside the urban sprawl of Mexico City.
Mexitours, www.mexitours.com.mx