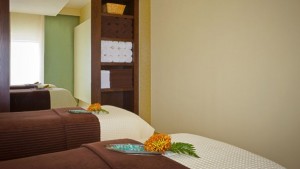 The Hyatt Regency Trinidad is offering personalized packages for each type of traveler, business and pleasure alike, in order ensure that each of its guest has a personalized and unforgettable experience.
Free Time – With modern meetings facilities, teambuilding opportunities and an exotic location, Hyatt Regency Trinidad is the choice for business travelers. The Free Time package is designed to ensure that businessmen and women have a little playtime by offering a third night free for guests who stay two nights. Post-meeting, guests can unwind at Spa Esencia, relax by the rooftop pool or kick back at any of the hotel's five food and beverage outlets with an island-infused Manzanilla cocktail and toast to a job well done. There's also a visit to Maracas Beach or a round of 18 at one of the local golf courses.
Spa Package – Those in need of a relaxing spa vacation will find what they are looking for with the hotel's Spa Package. The Spa Package offers a full breakfast buffet for two, late checkout at 2 p.m. and a $100 relaxation credit that guests can apply to a spa treatment of their choice at Spa Esencia.
Romance Package – With the Romance Package, Hyatt Regency Trinidad will provide colorful sunsets, sweet treats and breakfast in bed. Upon arrival, guests will receive a complimentary bottle of sparkling wine and chocolate truffles. The package also includes breakfast in bed and late checkout at 2 p.m.
Carnival – Carnival is a national celebration showcasing the music, creativity, and culture of the island. With the Carnival Package, guests will receive a complimentary buffet breakfast in order to fuel up before the day's festivities.
The Hyatt Regency Trinidad, 800.233.1234; trinidad.hyatt.com