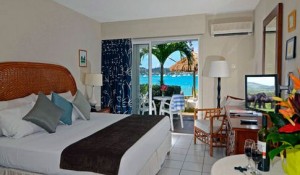 The Grand Case Beach Club is making good on its promise by General Manager Steve Wright to provide "something new every year for our guests."
The latest project, which is expected to be completed by the beginning of the winter season, will focus on upgrading some of the kitchens and bathrooms. In addition, ground floor townhouses as well as some other units will be re-tiled in porcelain in a wood look. On upper floors, the "new look" will feature high quality water resistant laminate.
The wi-fi network, now available throughout the Grand Case Beach Club, has been considerably upgraded. Other amenities include the Sunset Cafe; fitness room and watersports center; swimming pool; tennis court; island boutique; two beaches and the Boardwalk, which wraps around a hill and connects to the Sunset Cafe. Every unit has a full kitchen and satellite color TV.
Grand Case Beach Club,  800-340-3016, info@gcbc.com, www.grandcasebeachclub.com