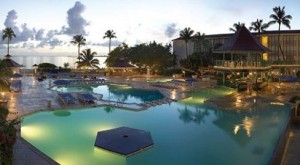 Though Tropical Storm Isaac may be bearing down on the Caribbean this week, guests at Breezes or Hedonism Resorts in Jamaica or the Bahamas can put their weather woes aside. SuperClubs offers "Guaranteed Getaways," ensuring sun-seekers that their vacation plans will not go to waste come rain or clouds.
If a hurricane strikes while on property, guests will receive reimbursement for the total value of disrupted nights, and a voucher for a future stay for the same number of disrupted nights at the resort for the same month of the following year, excluding airfare.
Additionally, should a storm disrupt travel to a resort, an extension for the same number of nights will be provided so a full vacation is enjoyed. In the event that the resort recommends all guests to reschedule their visit, a voucher will be issued for future travel.
Throughout the year, for each day the sun is not shining, guests will receive a credit voucher equal to that day's Super-Inclusive room value. The voucher can be used for a year following the trip for another Breezes or Hedonism vacation.
If a SuperClubs guest is not 100 percent satisfied with the holiday, and the general manager cannot remedy the situation by the second night of the guest's stay, SuperClubs promises to issue a credit voucher for the entire value of the unused portion of the hotel stay which is good for up to one year at a SuperClubs resort.
SuperClubs, 877-BREEZES, www.breezes.com; www.hedonism.com