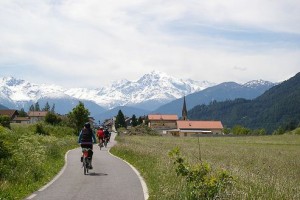 Austin-Lehman Adventures has announced new additions to its 2013 tour schedule while coming off a record 2012 season with bookings up 21 percent over the previous year.
The company is expanding its 2013 tour roster with 19 new trips home and abroad, and is freezing next year's rates at 2012 prices for trips booked by September  30, 2012.
The itineraries new for 2013 include family trips as well as adult-oriented tours featuring multi-sport activities exploring America's national parks: Oregon's Crater Lake; Arizona's Colorado Plateau; and Utah's Red Mountain Wellness Retreat in the high desert outside of St. George.
Last year ALA added a small ship cruise division and next year it will add a journey through Alaska's Northern Passages and Glacier Bay, as well as an expedition into Antarctica. Six new tours swell the opportunities for cycling in Europe to 26. These are Ireland's Cork to Killarney, the Scottish Highlands, France's Dordogne region, a second route through Normandy, a time-budgeted version of a popular trip through Holland and an exploration of the Aegean Sea along Turkey's shore.
South of the border the new 2013 catalog will feature a wellness week in Chiapas, Mexico; a hiking/boating trip through Costa Rica's Corcovado National Park and Osa Peninsula; and a journey to undiscovered Nicaragua. Rounding out the expansion are five new wildlife safaris in Africa encompassing lesser-known regions of Namibia, Botswana and Tanzania.
Austin Lehman Adventures, www.austinlehman.com