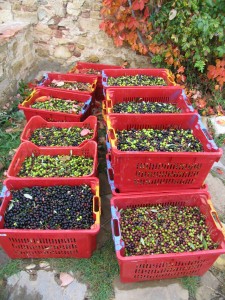 "I eat a hot grape from the market, and the violet sweetness breaks open in my mouth. It even smells purple," wrote Frances Mayes for the movie Under the Tuscan Sun.
For anyone who has dreamt of experiencing the famous grape or olive oil harvests of Italy, there is no better time to rent villas. The grape harvest in Italy generally kicks off the last of week of September, continuing well into October, while olives are harvested from late October through early December. Just in time for the harvest season, Doorways Villa Vacations has announced several packages to help travelers fully experience the beauty of the harvest.
"Taking a wine class from a sommelier or enjoying rich green olive oil with freshly baked bread in Tuscany, is a simple, yet unfulfilled dream for many, said Kit Burns, President, Doorways Villa Vacations.
Available packages are as follows:
La Novellina
This beautiful Tuscan farmhouse is located halfway between Florence and Siena, in the heart of the Chianti Hills. The original structure is an 11th century tower that has been completely restored although original materials have been reused wherever possible. The result is a delightful combination of tradition, authenticity and comfort, with an unbelievable view over the rolling countryside. La Novellina is surrounded by vineyards, olive groves and cypress trees. The house is part of a sixty-nine acre estate specializing in the production of extra virgin olive oil.
For the remainder of 2012, Doorways Villa Vacations will offer a 30% discount on the property. To celebrate the harvest, Doorways will arrange a trip the olive mill to see the olives being pressed. Guests can taste the new oil and will receive a gift 500 ml can to bring home. Rent this villa.
Villa Buonvisi
Villa Buonvisi is a renovated 500 year old villa set on a rise on three hundred acres of vineyards, olive trees and woods. The English-speaking owners extend incomparable hospitality to their guests. The vaulted stone ceiling of the cellar gives evidence of its history and of the original 12th-century tower that stood here before the villa was built. The villa's impressive wine cellar offers both estate wine and a large selection of fine wines available for purchase by the villa guests.
From now through December 10, complimentary wine produced by the Buonvisi Estate will be provided throughout the stay of those who rent the villa through Doorways, Ltd. Wine tastings (paired with cheeses) are available on request. Rent this villa.
Villa Poggio Delle Rose
Poggio delle Rose is an elegant hilltop farmstead, strategically positioned in the center of the "Golden Triangle" between Florence, Siena and Pisa. The property sits on top of a hill, surrounded by olive groves and offering stunning view of the gently rolling hills leading to the ancient towers of San Gimignano.
Guests who book through Doorways Villa Vacations in 2012 will receive a free wine tasting. The villa also provides complimentary bottles of upon arrival. Rent this villa.
[stextbox id="black" caption="Doorways Villa Vacations, www.villavacations.com" collapsing="false" collapsed="false"]Doorways Villa Vacations, www.villavacations.com[/stextbox]