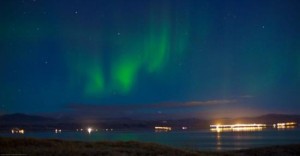 One of the most awe-inspiring attractions in Iceland from September through April is the Aurora Borealis, also known as the Northern Lights.
Visitors from around the world will head north in hopes of witnessing this breathtaking, natural phenomenon that can only be seen under the right conditions.
During the winter months when the nights are dark and the sky is clear, the Northern Hemisphere begins to dance and glow. With astronomers predicting that the Northern Lights will be some of the brightest in decades over the next few years due to a peak in the solar cycle, it promises to be unlike any you have ever seen before.
Due to its location, Iceland is one of the ideal countries to see the Northern Lights and since it is only 5 hours away from the east coast, one of the closest as well.
Icelandair, the national carrier of Iceland, has made it easy to plan a trip to experience the wonders of northern nights, starting at $779 per person. Icelandair's Northern Lights & Glacier Walk package includes round- trip airfare, three nights hotel at Hotel Reykjavik Natura, a glacier ice walk and a 2 course traditional home style Icelandic dinner at Hotel Anna. There will be a Northern Lights hunt, weather permitting.
Icelandair, www.icelandair.us