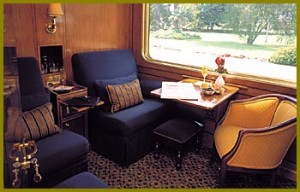 Those traveling on the Blue Train, a moving five-star hotel on wheels, now have their choice of one complimentary night's stay to be used either pre or post journey in Pretoria or Cape Town South Africa, where the train departs and terminates.
The Cape Town option is the Taj, offering a combination of rich history and elegant contemporary architecture. The five-star property is located in the center of Cape Town and perfectly situated for those looking to discover its authentic history, exotic culture, soulful art and lively entertainment.
The hidden boutique hotel treasure in Pretoria for travelers to consider is known as The 131 On Herbert Baker. Situated close to the city center, the retreat offers exquisite interiors and exceptional attention to detail.
Both hotel options offer one complimentary night, breakfast and transfer between the station and hotel and this promotion is offered to all new bookings for guests traveling on any Blue Train departure in 2013.
Blue Train journeys are 27 hours in length, offering a single night of luxury as guests traverse the landscape, indulging in private butler service, gourmet cuisine and award-winning wines and spirits, which are all included in the rate.
The Blue Train, info@trumarketing.com; www.bluetrain.co.za