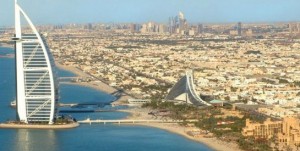 There are few places in the world with more luxury and amenities than Dubai, a city of ultramodern skyscrapers surrounded by miles and miles of undulating desert landscapes. Now, Friendly Planet Travel is offering five packages that feature Dubai and four exotic hot spots starting at $2,199.
Friendly Planet's six-day Dazzling Dubai tour starts at $2,199 and includes round-trip airfare on Emirates; fuel surcharges; airline taxes and fees; and all transfers. It also includes deluxe hotel accommodations at the five-star Fairmont Dubai; a daily buffet breakfast; touring programs; a professional, and an English-speaking tour director.
Travelers have the chance to explore the picturesque Dubai Creek that divides the city into two parts, the Bastakiya district with courtyard houses and narrow alleys, and the Dubai Museum, where life-size dioramas offer a view of life in Dubai before the discovery of oil. There is also a visit to Burj Khalifa, the world's tallest building.
With the option of going on their own or with an optional tour, travelers can enjoy the Mall of the Emirates, a dinner cruise on Dubai Creek or a desert safari tour.
For travelers looking to get a taste of Dubai and take advantage of the already-included international airfare, Friendly Planet offers four combo packages. Each package includes all the features of Dazzling Dubai, with the following additional features:
Dazzling Dubai and Bangkok: Travelers spend the first half of their trip in Dubai before departing for Thailand. In Bangkok, travelers tour Asia's most popular city, with 24-hour-a-day bustle, incredible shopping, phenomenal cuisine, sky trains, and amazing nightlife, all amid an ancient, fascinating culture, exotic architecture, temples, canals, and markets. This nine-day tour starts at $2,339.
Dazzling Dubai and India Express: This inventive package takes travelers to Dubai before departing for India to explore the "Golden Triangle", from fascinating and exotic Delhi, to Agra and the Taj Mahal, the world's most famous monument to love, to Jaipur, the "pink city." This 13-day tour starts at $3,238.
Dazzling Dubai and Kenya Safari: After spending the first part of their exotic vacation in Dubai, travelers head to Kenya to experience legendary game reserves filled with magnificent wildlife and sweeping vistas. Visit Nairobi, the plains of Masai Mara, and more. This 11-day tour starts at $3,138.
Dazzling Dubai and Cape Town: After being dazzled in Dubai, travelers depart for the vibrant city of Cape Town. Known for its high style, hot night life, and gorgeous scenery, travelers will be treated to the warm, welcoming South African hospitality, complete with a cable car ride to the top of Table Mountain, Cape Town's most striking landmark. This 10-day tour starts at $3,099.
Friendly Planet Travel, www.FriendlyPlanet.com