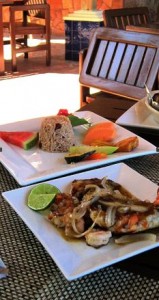 Experience Caribbean dining in an open door atmosphere overlooking the calm blue waters of the sea while enjoying a refreshing sea breeze at Jambel Jerk Pit Restaurant & Bar located now at SunBreeze Suites.
Jambel Jerk Pit Restaurant & Bar offers a fusion of Belize's signature flavors with the perfect blend of Jamaican Cuisine. Carefully selected spices are utilized which are sure to tantalize your taste, while the exceptional aroma awakes you! The curry seafood combo is one of the best signature dishes – It is so good that it makes you return for more – the ingredients make their magic.
Open for Breakfast, Lunch and Dinner. Offering all you can eat buffet on Wednesday with live music from 5:00pm to 9:00pm and Happy hour on Fridays from 5:00pm to 9:00pm.
SunBreeze Suites, www.sunbreezesuites.com