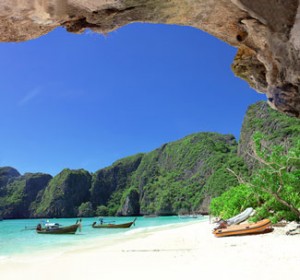 Agents that have clients looking for an affordable sun-vacation this winter but want something other than the Caribbean to recommend should consider Asia, reports Goway's specialist division. Traveling between November-March is generally the best time to visit Asia for a beach escape and there are fabulous specials available
"We are well aware that travelers are now seeking more "experiential" holidays. Whether it is young couples, families or retirees, vacationers want the relaxation that a beach holiday provides, but in an exotic destination, preferably one that offers unique day excursions, like elephant treks or cooking classes and a chance to learn about a new culture. Yes, the Far East is far, but well worth it… and when you look at the value of the experience had, Asia is incredibly affordable!" stated Diane Molzan, Goway's Asia General Manager
Goway lists Five Reasons to offer Asia instead of the Caribbean this Winter:
Weather in Winter. The winter months in Thailand, Bali, Vietnam, Cambodia, the Philippines and Malaysia are generally the best time to visit a beach, when weather is dryer, less extreme and a great time for Island-Hopping.
Perfect for a Destination Wedding or Honeymoon. Thailand is a place that gives special attention to new couples. Many resorts have added bonuses exclusive to honeymooners such as free massages, spa treatments, private dinners and special flower bouquets. Goway can help arrange beach weddings and special ceremonies and also has an online honeymoon registry. Goway's 7-12 days Thai Beach Escapes in Samui or Phuket offer many stay/pay specials, giving great value to those who spend one week or more in Thailand.
All-Inclusive Alternative with Value. Bali is one of the few places in Asia that offers resorts with all-inclusive facilities (at incredible value) for those seeking a relaxing, hassle-free holiday. Goway has a range of hand picked resorts as part of the 7-12 night Bali Beach Escapes which include all meals, drinks and resort activities, plus 3-5 day excursions, depending on the package.
Paradise in Less Touristy Areas. Places like Phu Quoc, Vietnam; Sihanoukville, Cambodia and Hua Hin, Thailand are lesser known beach areas and perfect for clients who want an exclusive retreat, away from the crowds.
Experience-Based Vacations. Many travelers are searching for "experience-based" holidays that offer interesting activities, cultural sites and a chance to learn about the destination and interact with locals. Whether it's riding an elephant or exploring thousands-year old, the range of activities and unique experiences in Asia are endless…
Goway Travel, www.goway.com