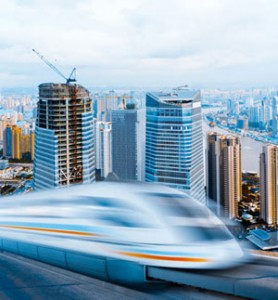 Traveling by train is an efficient, exciting, relaxing and scenic way to experience a destination. It offers travelers the chance to interact with locals, and is usually more convenient than traveling to/from the airport, on top of being great value.
"There are a host of exciting rail experiences throughout Asia" says Bronwyn Hodge, Goway's Asia Product and Marketing Coordinator. "These range from short high speed rail journeys connecting major cities, such as those within China, Japan, Korea and Taiwan, to the epic Trans-Siberian Railroad as well as luxury ideas in South East Asia. Train travel offers a perspective that no other form of transportation can, and is a great way to really experience a destination." continues Hodge. Goway offers a variety of itineraries that incorporate a rail experience in Asia:
Goway's 4-day Beijing Great Wall and 3-day Legendary Shanghai can be connected by the1318 KM long high speed rail, which opened in June 2011. With a running speed over 300KM, the journey takes only 5 hours and is both more convenient and cost effective than flying! More information can be found at: Beijing and Shanghai High Speed Train.
Japan's rail network has been long established and the Shinkansen train was the world's first high speed railway line, now reaching speeds of 270 KM/hour. Goway's 5-day Tokyo and Kyoto Highlights connects these two major cities by bullet train.
For those looking for a luxury rail journey experience, Goway's 3- or 4-day Bangkok to Singapore (or vice versa) on the Eastern & Oriental Express is an unforgettable experience of unrivalled luxury. Travelers will experience the highest level of comfort on this enchanting train, with opulent dining and elegant cabins through mysterious Thailand, exotic Malaysia and exciting Singapore.
The ultimate rail journey in Asia is Goway's private 13 day Tsar's Gold from Beijing to Moscow (or vice versa) which offers a "once in a lifetime" experience. The Trans-Siberian is the world's longest and most iconic train journey traversing two continents, eight time zones and 9656km of Siberian steppe between Beijing and Moscow. Aside from incredible sightseeing, travelers are well taken case of with 44 attendants, six chefs, numerous guides, waiters and engineers, as well as a doctor, a librarian and an accordion player.
Goway Travel, www.goway.com