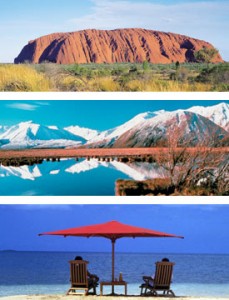 Goway Travel has designated October as "Sell Downunder Month" and to celebrate has introduced a brand new "hot" Downunder deal.
For $2,849 per person, clients can travel to Australia, New Zealand and Fiji for 16 days. The price includes 4 nights in Fiji at a beachfront resort with return transfers, 3 nights with sightseeing in Sydney, 3 nights with sightseeing in Melbourne and 3 nights with sightseeing in Auckland, at 3-star hotels, daily breakfast, plus return airfare and taxes and fees with Air Pacific from Los Angeles. This Super Special is valid for travel in October (and November for an extra $90) and must be booked by 31 October, 2012. Add on airfares are available from other U.S. cities.
For all new bookings this month, agents are eligible for incentives of $20 per couple for Air bookings, $20 per couple for Land bookings or $50 for Air-Land bookings. All incentives are loaded to the agent's Goway Incentive Card.
As well, an agent who makes 10 bookings (20 passengers) with Goway on Air Pacific, with minimum 7 nights accommodation, will receive a free ticket to Downunder.
Goway Travel, www.goway.com