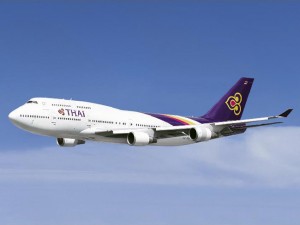 Thai Airways has announced that beginning October 28, 2012, it will begin flying a B777-300ER from Los Angeles (LAX) – Bangkok (BKK), with one stop over in Seoul (SEL). The new aircraft will bring an extended range of passenger comfort.
"The 777 takes luxury to new heights," said Steve Haro, cabin interior brand design, Boeing Commercial Airplanes. "The Boeing Signature Interior on the 777 is the most spacious passenger cabin ever developed making flying productive for business travelers, restful for leisure travelers, and enjoyable for all on board."
Business class passengers will have seats that recline into fully flat beds. In economy class, travelers will have 18.5-inch wide seats, the widest in the industry.
"The 777-300ER's interior provides a wealth of space and opportunity to highlight our unique brand of service," said Mr. Teerapol Chotichanapibal, Executive Vice President of Product & Customer Services, Thai Airways. "Boeing continuously develops new ways to increase passenger comfort, helping passengers rediscover the joy of flight."
Thai Airways has further customized their 777-300ER with a state-of-the-art in-flight entertainment system. With larger screens and touch-control commands, passengers can learn the basics of a new language, browse a wide selection of music and movie choices, play interactive games, and even practice meditation.
The B777-300ER provides:
42 Royal Silk Class (Business Class) seats:
All seats connect to aisle
180 degree lie flat
Seat pitch – 87"
Width – 20"
15" personal TV screen
304 Economy Class seats:
Seat pitch – 32"
Seat width – 18.5" – the widest in the industry
10.6" personal TV screen
eX2 in-flight entertainment:
100 movies
150 TV programs
500 CD albums
16 channels
60 games
Connectivity:
Internet access via GPRS
Voice calls
SMS
Thai Airways provides four weekly flights departing from Los Angeles (LAX) to Bangkok (BKK), with one stop over in Seoul (SEL) on Tuesdays, Thursdays, Saturdays, and Sundays. Fares start at $1,109.
Thai Airways, 877 THAI AIR,  www.ThaiAirwaysUSA.com