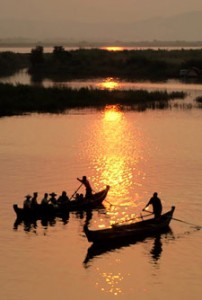 Returning visitors to Asia are flocking to Myanmar. Rapidly becoming the "it" destination in Asia, Myanmar is a pristine country that is lost in time – for now.
Bordered by Thailand, Laos, Bangladesh, India, and China, Myanmar is quickly emerging on the tourism scene with an identity that is uniquely Burmese. Over 4000 sacred dome shaped stuppas dot the countryside along the Irrawaddy River, Myanmar's lifeblood. Sweeping hilltop panoramic views over the land of pagodas offer travelers the opportunity to visit a pristine jewel in Southeast Asia.
Myanmar is rapidly changing. A general election in 2010 lead to the military junta dissolving in 2011, and western sanctions have been rapidly easing. The demand for tourism has grown exponentially since then, and travel to Myanmar should be planned at least 4-6 months in advance to ensure hotel space.
"Myanmar is a fabulous extension to any holiday in southeast Asia," stated Diane Molzan, Goway's Asia General Manager. "There are several flights daily from Yangon to Bangkok and Singapore, as well as options to fly from Ho Chi Minh City, Taipei, and Seoul."
Goway offers a variety of ways to explore this fabulous country, for every budget. Fully private FIT arrangements such as the 6-day Myanmar Showcase (from $1350) and the 9-day Myanmar in Depth (from $2170) offer passengers the opportunity of taking in this mysterious country at a leisurely pace. Solo travelers preferring the comfort of a small group journey will appreciate the 9-day Highlights of Burma (from $2135).
River cruising is a fantastic option to take in the pristine beauty of this mystical country. Sailing along the Irrawaddy River on the 5-day and 8-day Road to Mandalay (from $2550) is a fabulous option for luxury-oriented travelers without breaking the budget. Step back in time by visiting diverse ethnic groups and forgotten frontier posts on the 11-day Golden Land (from $3140) and marvel at this amazing country.