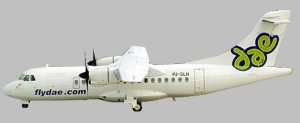 October marks a milestone for Dutch Antilles Express as the airline opens its office in Bogota, on the eve of the start of its operations in Colombia. Dutch Antilles Express will start flying on Bogota and Barranquilla during the first week of December.
The airline appointed Salvador Parada, the present Manager for the Dutch Antilles Express in the Dominican Republic as General Manager for Colombia.  Mr. Parada has served as the General Manager of Aeropostal in Colombia.
Dutch Antilles Express will start selling tickets to Bogota as of October 15 and offer three direct weekly flights to Bogota with a MD83 and three flights to Barranquilla with a Fokker 100.
In January 2013 the airline will start with direct flights to Cartagena with its ATR while flights to Bucaramanga and Cali will be opened later next year.
Dutch Antilles Express, www.flydae.com