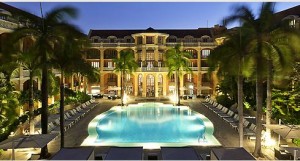 Founded in 1533, Cartagena de Indias is today Colombia's main travel destination. Its walls that once served as the city's defense, now harmonize with colonial balconies and republican structures reminiscent of the splendors of its past. In recognition of its vast cultural wealth and architecture UNESCO declared Cartagena's walled city and fortresses World Heritage Site in 1984.
Originally built as a convent in 1621, the Sofitel Santa Clara is a landmark in the heart of Cartagena's walled city. Transformed into a luxury hotel in 1995, the Sofitel Santa Clara offers the allure of history with local hospitality and the art of French savoir-faire. 
The hotel boasts 122 guestrooms, 19 of which are suites. Distributed along a Colonial and Republican wing, the stylist guestrooms overlook the Old Town, the Caribbean Sea as well as the hotel's poolside and interior courtyards. 
The Colonial suites have been tastefully renovated and are located in the 17th century Colonial wing that combines historical charm with modern comfort with views to Cartagena´s walled city.
Sofitel Santa Clara Hotel, www.sofitel.com