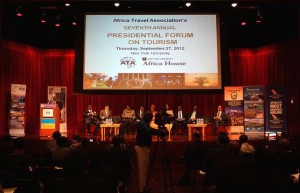 African foreign affairs and tourism ministers gathered on September 27 at the Africa Travel Association's (ATA) seventh annual Presidential Forum on Tourism at New York University.  The Gambian, Namibian, Tanzanian, Zambian, and Zimbabwean ministers joined senior representatives from the Africa Development Bank, African Union, Global Partnerships Forum, and UN World Tourism Organization (UNWTO) to speak about the benefits of tourism in relation to the economy, environment and people.
"The Forum is built on the commitment to establish collaborative global networks to raise the profile of tourism on national agendas," said Edward Bergman, ATA Executive Director. "Tourism cannot be addressed solely from a national or a regional perspective; it needs to be addressed across sectors and across borders."
The Tanzania Tourist Board (TTB) and Tanzania National Parks (TANAPA) co-sponsored the event with TTB Managing Director Aloyce Nzuki presenting the annual tourism awards.
In his opening remarks as ATA President, Zimbabwe's Tourism and Hospitality Minister Walter Mzembi spoke about tourism's contribution to peace and stability, explaining that this approach has enabled Zimbabwe to continue relations with other nations.
As co-hosts of the upcoming United Nations World Tourism Organization General Assembly meeting – which will be held in Victoria Falls, Zimbabwe and Livingstone, Zambia next August – the Zambia Tourism Board and Zimbabwe Tourism Authority co-sponsored the forum.
Tanzania's Chief Secretary, Ambassador Ombeni Sefue, said  that tourism is also one of Tanzania's fastest growing economic sectors. He also shared that the U.S. represents the largest single tourism market for Tanzania.
The African Development Bank's Vice President, Professor Mthuli Ncube, agreed on the need to allocate resources to tourism development, emphasizing that the time for Africa's growth is now. "Africa is on the cusp of sustainable growth and tourism is an integral part of this", he said.
The ATA also held their second Young Professionals Program, which partnered with NYU's Africa Student Untion to organize a roundtable discussion for young professionals and students.  The panel focused on how to leverage media to promote African destinations.
Africa Travel Association, www.africatravelassociation.org