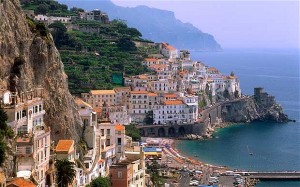 Depart the USA on APRIL 13 and arrive Naples, Italy on April 14 with a tour that includes six nights in the same hotel in the town of Sorrento. Guests will stay all six nights in a lovely small hotel in the center of the city.
The itinerary for the tour is as follows:
DAY 1 – APRIL 13 – LEAVE USA….
Day 2.APRIL 14 — Arrive Naples Italy airport and transfer on your own to hotel in center of Sorrento. Dinner.
Day 3 – SORRENTO. After breakfast, a free day to spend on your own in the lovely village of Sorrento.. If you prefer, you can take an optional trip to the Isle of Capri, guided of course. Early evening leave on coach for the hills of Sorrento and local farm for tasting of local products, dinner with wine and more.
Day 4 – AMALFI COAST. A drive along the famous Amalfi coast to see Positano, Priano and other small fishing villages. We stop in Amalfi tor brief tour and proceed to the mountain village of Scala for lunch. After lunch go to famous town of Ravello for free time on your own.
Day 5 After breakfast your entire day is free to spend in Sorrento.
DAY 6 – FARM VISIT.: Morning drive to Massa Lubrense and visit of farm Villanella ( the most fantastic view of CAPRI. Also a tour of the beautiful Villa Angelina and a tasting of all local products plus wine.
Day7– Breakfast and end of tour.
Tours are available to Amalfi Coast, Pompeii, Positano, Naples, Ravello, Sorrento and the Island of Capri.
Giglio Travel US, www.gigliotravelus.net; info@gigliotravelus.net