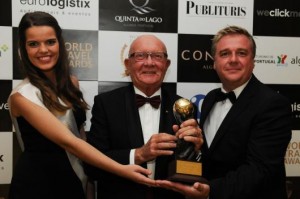 Corinthia Hotels announced that its five-star Corinthia Palace Hotel & Spa in Malta and its Corinthia Hotel St Petersburg in Russia were among Europe's travel elite to walk off with top honors at a World Travel Awards (WTA) ceremony hosted in the Algarve on Saturday 6th October 2012. The former has been voted 'Malta's Leading Hotel' for the fourth consecutive year, whereas the latter was named 'Russia's leading Conference Hotel'. The luxury Corinthia Hotels brand is this year celebrating its 50th Anniversary.
Other Corinthia hotels that featured prominently among the WTA finalists in various categories included the Corinthia Hotel London, Corinthia Hotel Budapest, Corinthia Hotel St George's Bay and Corinthia Hotel Lisbon.
Hailed as 'The Oscars of the Travel Industry' by the global media, World Travel Awards is acknowledged across the globe as the ultimate travel accolade, and highlights and rewards those travel brands that have made the greatest contribution to the industry over the past year. A packed delegation of VIPs, senior tourism figures and international media travelled from 35 nations to attend the event.
Set in extensive landscaped gardens, the Corinthia Palace Hotel & Spa, the 'Grand Lady' of Malta's luxury hotels, was the very first hotel to fly the Corinthia flag when it opened in 1968 in the presence of Prince Philip, the Duke of Edinburgh. Since then, the world renowned hotel has become the benchmark for excellence in Malta's luxury hotel sector and the catalyst for the worldwide expansion of the 'Corinthia Hotels' brand.
Following extensive refurbishment and restructuring work, the 400-room luxury Corinthia Hotel St Petersburg was re-launched with more bedrooms and more facilities under one roof than any other luxury five-star hotel in the City. The hotel, together with grand properties on either side of it on the city's main boulevard, was acquired as an operating hotel in 2002 by International Hotel Investments plc. (IHI).
IHI, which is the owner, developer and operator of all Corinthia Hotels, has since invested a further Euro €100 million in the total refurbishment of the original hotel, complete with a new grand foyer, a new restaurant and new bars. The adjoining buildings on either side of the hotel were demolished and carefully reconstructed with ornate facades matching their original splendour, rebuilt using traditional techniques. The hotel also has the city's first grand ballroom in a five-star hotel.
Corinthia Hotels, www.corinthia.com