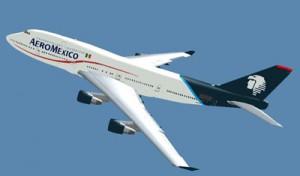 Aeromexico has announced that it will start new service between Dallas/Fort Worth (DFW) International Airport and Mexico City in early November. Aeromexico is also announcing special fares to promote the new service. The route will feature twice-daily service aboard Embraer E-190 aircraft, which can seat up to 99 passengers.
"Aeromexico is delighted to start service between Dallas Fort Worth and Mexico City as of November 5," said Oscar Mejia, Aeromexico VP for North America Sales Division. Aeromexico is Mexico's leading airline, carrying 14 million passengers in 2011 and offering  600 daily flights to 45 destinations in Mexico.
The impending arrival of Aeromexico continues DFW's sustained and successful run of adding new international air service. In the past two years, DFW has added 12 new international destinations and four international passenger air carriers, marking the most successful period of international expansion in the Airport's history.
Aeromexico is a founding member of SkyTeam, and will join three other members of that global airline alliance serving DFW, including Delta Air Lines, Korean Air and KLM Royal Dutch Airlines. DFW becomes the 18th U.S. destination served by Aeromexico.
Aeromexico, www.aeromexico.com