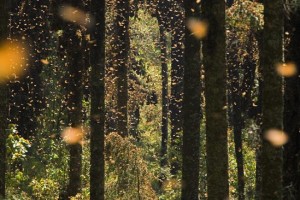 The Monarch butterfly, in addition to their great beauty, is known for its strength and longevity, because while other butterfly species have a life cycle of 24 days, the Monarch can live up to nine months.
Taking advantage of these features, the Monarch butterfly is capable of traveling more than 4,000 kilometers (from Canada and the United States of America) to Oyameles Forest located on the states of Michoacán de Ocampo in Mexico. This zone is considered as natural heritage of humanity.
Each year, between November and March, the Monarch butterflies in Mexico's forests find the ideal conditions to grow and mate: altitude (2,300 – 3,500 meters. above sea level), temperature, humidity and exposure to sunlight, among others.
They travel around 120 kilometers a day and make their trip in 33 days.  In the end of March, when they reach maturity, begin their journey back to the northern countries.
Mexitours is offering tour and accommodation options to enjoy this unique experience, as well as a host of other adventures.  Full details of all their packages are available on the company's website.
Mexitours, www.mexitours.com.mx