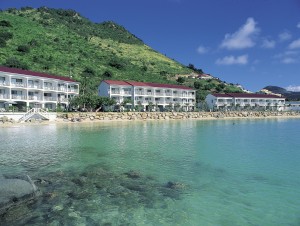 Canadian visitors accounted for over 1,500 room nights through October at the Grand Case Beach Club, which is located on the ocean adjacent to the village of Grand Case, the culinary capital of the island.
Ronald Muzii, president of the resort's marketing representative, expects the rest of 2012 to be strong, as well as the winter season, thanks to the popularity of Air Canada Vacations and Westjet.  Most Canadian visitors live primarily in the provinces of Ontario and Quebec and vacation at the Grand Case Beach Club for at least a week.
"We've had a highly successful long-term relationship with Canadian travelers, which is reflected in annual increases for the past ten years," Muzii said.
The Grand Case Beach Club offers guests plenty of white sand beaches, a swimming pool, watersports center, fitness room, tennis court, island boutique  and the Boardwalk, which wraps around a hill overlooking the ocean and connects to the Sunset Cafe.
Grand Case Beach Club, info@gcbc.com; www.grandcasebeachclub.com