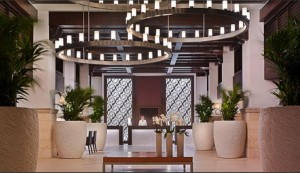 In December, Hyatt Regency Aruba will offer guests a beach-themed welcome beach bag or bucket that includes a shovel and suntan lotion for the kids upon check-in. Then on December 22, guests checking in will receive a glass of eggnog upon arrival. All arrivals staying over December 25 will receive a holiday gift delivered on Christmas Day.
Families and teams can participate in new daily obstacle courses involving beach soccer, egg-in-a-spoon races, broom balancing, hula-hooping and balloon tosses. Families will compete against each other and the team with the best time wins a prize.
The hotel will also conduct cigar making demonstrations by a professional cigar roller who will demonstrate the art of rolling cigars on December 24, 26 and 31. During the holidays, an area of the Regency Club lounge will be dedicated to families only. This will enable guests on the Club floor without children to enjoy the serenity of the lounge while guests with children can enjoy a communal area.
The hotel is also currently offering their new "Hyatt Free Time" promotion which allows guests to enjoy a free night and free daily breakfast for two through December 30, 2012.
Hyatt Regency Aruba, 800-55-HYATT, www.aruba.hyatt.com