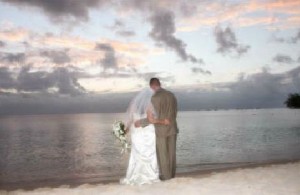 Those planning to tie the knot during the winter months can take advantage of "Nuptial Package" at the all-inclusive Mango Bay Resort.
The resort is offering couples a chance to say "I do" in a Caribbean beachside ceremony and provides a personalized wedding planner to help make the day extra special.  Each ceremony is personally arranged.
The resort's wedding package, which can be added on to the cost of an all-inclusive stay, is priced at US$1,025 and includes a wedding coordinator, clergyman, marriage license fees, decorations, a bottle of wine and a 12 inch cake.
For additional fees, guests can also request photographs and video, music, grooming services and champagne.
Mango Bay, reservations@mangobaybarbados.com, www.MangoBayBarbados.com