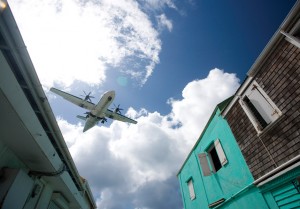 The island of St. Maarten continues to prove itself as a preferred destination for travelers as it has seen a 7 percent increase in passenger traffic during the first seven months of 2012 compared to the same period in 2011, exceeding the world average of 6%.
The figures were revealed during the Strategy Summit held at the World Routes conference in Abu Dhabi and the numbers show that St. Maarten has held its own despite the economic and financial challenges faced by nations around the globe. The Princess Juliana International Airport saw an increase to 520,018 total enplanements during the first half of 2012.
JetBlue announced that the performance of its San Juan to St. Maarten route during the slow period was better than the airline had anticipated, while United Airlines stated that its extended seasonal service also surpassed expectations. Delta reported that its load factor to the island was a very healthy average of 90%.
"As a destination that focuses many efforts on tourism, we are thrilled with these figures," said Augusto Priest, interim director of tourism for the St. Maarten Tourist Bureau.
Officials from the Ministry of Tourism, Economic Affairs, Transport and Telecommunications, the St. Maarten Tourist Bureau and the management of the Princess Juliana International Airport (SXM) participated in the St. Maarten delegation at the conference.
St. Maarten, www.vacationstmaarten.com