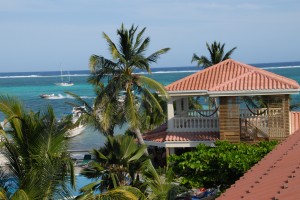 SunBreeze Hotel is known internationally for continuously offering great dive vacations to the largest "unspoiled" Barrier Reef in the Western Hemisphere and for some of its signature dives such as the Blue Hole and Turneffe. On site dive operator "Belize Dive Connection" has been offering highly professional service and safe diving courses for over 15 years.
There are 43 ocean view, spacious and comfortable rooms with an open air seafront restaurant. The hotel is home to the "Blue Water Grill" bar, adjacent to a fresh water swimming pool overlooking the calm, blue waters. There is also an Art of Touch Gallery, Massage Studio and Spa, 24 hour front office assistance and Free Wi-Fi offered on premise, perfectly suited for a dive vacation.
The SunBreeze Hotel is offering $100 off per person, double diver to anyone booking one of their 7 night dive packages.
SunBreeze Hotel, sunbreeze@btl.net; 1-800-688-0191; www.sunbreeze.net