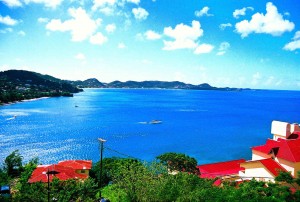 A number of Grenada's hotels and dive shops are offering special dive packages for the upcoming peak season and beyond, with many featuring discounts on dive travel to the destination.
The packages provide divers with an opportunity to experience the underwater world of Grenada for less. Named the wreck diving capital of the Caribbean by Scuba Diving magazine's 2012 Readers' Choice Awards and having the island's Underwater Sculpture Park recently recognized by National Geographic as a "Wonder of the World," Grenada is a magnet for divers who enjoy exploring sites that are unique and intriguing.
At True Blue Bay Resort's on-site dive operation, Aquanauts Grenada, divers can choose from a variety of options when booking their group travel. Guests booking 6 nights receive 8 dives, 7 nights receive 10 dives or 8 nights receive 12 dives. Packages include daily continental breakfast, tanks, weights, roundtrip airport transfers and all taxes and service charges. Rates begin at $1,011 per person based on double occupancy for stays from April 15 to July 31, 2013 and September 1 to December 15, 2013.  Aquanauts Grenada, www.aquanautsgrenada.com
Coyaba Beach Resort's on-site dive shop, Eco Dive & Trek is offering a special wherein divers who book a travel group of 10 divers get 2 divers free and those who reserve 5 rooms receive 1 free room. The package includes one free dive with the purchase of 9 dives, complimentary continental breakfast, PADI refreshers and free airport pick-up. The Eco Dive group special applies now through the end of 2013, but must be booked by the end of April 2013. Eco Dive & Trek, www.ecodiveandtrek.com
Flamboyant Hotel & Villas and Dive Grenada are offering their Romance on the Reef package to create the perfect underwater Caribbean blue wedding for divers who are looking to say "I Do" underwater. The package includes all civil and religious arrangements, licenses, priest or magistrate fees; services for an event coordinator; roundtrip transportation to and from the registry; chairs and signing table with table cloth; decorated location for the ceremony on land and underwater; safety divers/witnesses; and boat passage to the wedding site. Rates begin at $795. Flamboyant Hotel & Villas, www.flamboyant.com
Calabash Hotel's on-site dive operator, ScubaTech LTD, is offering free dives to divers who pre-book their dive packages their website from now through March 31, 2013. Divers can chose from a variety of packages; book 6 dives, receive one dive free; reserve a 10-dive package and receive 2 dives or a Nitrox course free; book a 20-dive package and get 4 dives free and a Bianca C t-shirt, or a Nitrox course and 2 dives free. SubaTech LTD, www.scubatech-grenada.com
Getting to Grenada is easy, with various airlines offering service from the United States. American Airlines offers four non-stop flights from Miami to Grenada on Tuesdays, Wednesdays, Fridays and Sundays. Caribbean Airlines operates non-stop service from New York JFK on Wednesdays and Saturdays. The airline is increasing their service to Grenada for the Christmas peak season for December 18 – 20, 2012 and January 1 – 3, 2013. Delta Airlines operates seasonal service from New York JFK on Saturdays, from December 15, 2012 through March 30, 2013 and then again from July 6, 2013 through August 31, 2013. Schedules vary seasonally, so be sure to check availability with your airline.
Recognized as the "Spice of the Caribbean," Grenada boasts some of the Caribbean's most beautiful beaches, delectable cuisine and spices, a tropical rainforest and a wide range of fun-filled activities such as diving, snorkeling, hiking, fishing and sailing. Romantic, natural and authentic, all of nature's best gifts can be found in Grenada.
Grenada Board of Tourism, www.grenadagrenadines.com