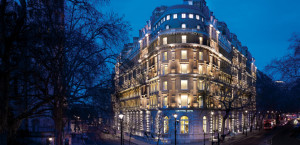 The penthouse suites at the Corinthia Hotel in London have been recognized among the very best in the world at the European Hotel Design Awards.
Four of the six finalists short-listed for the Best Suites Category from entries from all over the world were penthouse suites at the London hotel, with the 'The Whitehall Penthouse' emerging as the clear winner and sole UK winner at the international celebration of European design and architectural excellence. The Whitehall Penthouse is one of seven bespoke Penthouses at the Corinthia Hotel London launched earlier this year.
Judges at the awards deemed this particular suite to exemplify "the best use of quality finishes, with a design that reflected an old English charm with a contemporary interpretation." They were particularly impressed by the suite's "dynamic double height space, delicate balcony detail and breath-taking terrace".
The Whitehall Penthouse, marked by its dark timbers with a lime wash, is a powerful and comfortable space, which sits opposite the in-built library. On the terrace, a life-size chessboard offers a break from work and a chance to enjoy views of a close by neighbor, Parliament.
The other penthouse suites at the Corinthia London are designed around themes associated with Royalty, Writers, Musicians, Explorers, Actors and Lady Emma Hamilton, a lover of Lord Nelson whose monument sits atop the column in Trafalgar Square, directly visible from this penthouse's external terraces.
Corinthia Hotel London www.corinthia.com/London