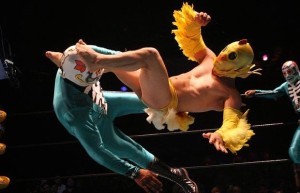 SEGWAY IN CHAPULTEPEC
One of the most popular ways to to experience a guided tour is by using a Segway, a two-wheeled, self-balancing personal form of transportation. Guests of Mexitours can tour through the magical culture of Chapultepec Park. After the tour, guests will have a free day to visit the park, zoo or perform any other several activities on their own. Mexitours includes transportation to the starting point of Segway.
MEXICAN WRESTLING TOUR
Enjoy the opportunity to see and experience Luche Libre wrestling with authentic Mexican superheroes. When lights come up and the roar of the crowd fills the arena., the "rudos" (bad guys) fight against the "técnicos" (good guys). You will see the masked wrestlers execute high flying maneuvers by using the wrestling ring's ropes to catapult themselves towards their opponents or use perform combinations of complicated acrobatic moves. The atmosphere is amazing and will definitely be an exciting experience for you.
MEXITOURS, www.mexitours.travel