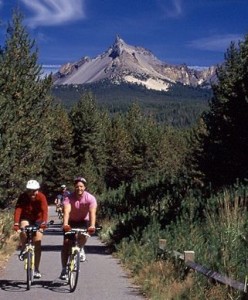 Austin-Lehman Adventures announced new family trips for 2013 spanning the Serengeti to Oregon's Crater Lake.
Two national parks are among the new offerings for 2013. Oregon – Crater Lake National Park Family is a six-day/five-night trip with two departures, Aug. 11 and Aug. 18. The per person rate is $2,498 ($580 single supplement), children from $1,998. Activity highlights include biking the rim of an extinct volcano, hiking scented forests of pine, hemlock and red fir and rafting the world-famous Rogue River.
Crater Lake National Park was chosen in 2013 as the recipient of ALA's annual Preserve a Park Program which gives back to non-profits promoting park preservation and heritage.
In Montana, ALA's home turf, the Glacier National Park Family Adventure is a six-day/five-night "glaciers to grizzlies" program offered July 7 and July 14. The per person rate is $2,698 ($680 single supplement), children from $2,158. Here the American and Canadian Rockies shake hands over alpine lake swims, hiking with eyes peeled for mountain goat, big horn sheep and deer, rafting Flathead River and biking through its glacier-carved valley.
Families flock to Costa Rica and ALA's – Arenal Rainforest to Manuel Antonio Adventure, a seven-day/six-night program departing March 24 and 31, July 14 and 21, Aug. 4 and Dec. 22 and 27. The per person rate is $2,798 ($1,080 single supplement) and children as young as age five $2,158.
Families can relax in the sulfur-rich waters of Costa Rica's hot springs; traverse the treetops along a series of hanging bridges watching for sloths, agoutis, green iguanas, basilisk lizards and howler, squirrel and white-faced monkeys; kayak; snorkel and surf off the beach in Manuel Antonio National Park; swim under a tropical waterfall and learn about the life cycle of nearly 1,000 species of butterflies.
ALA's international family focus targets France – Normandy Family, a six-day/five-night trip departing Aug. 11 and Aug. 18. The per person rate is $2,898 ($680 single supplement) and children from $2,318. Beaches, battlefields, lighthouses and colorful tapestries from Barlfleur to Bayeux involve sweeping coastline, rolling woodlands and charming ports while reliving a pivotal chapter in American history by walking in the footsteps of Allied World War II victors in Carentan and on Utah Beach, biking the beautiful cliff-top roads of Pointe du Hoc overlooking Omaha Beach and cemetery, and also examining William the Conqueror's conquest of England while viewing the colorful 230-foot Bayeux Tapestry.
Tanzania – The Best of the Serengeti lures families for ten days/nine nights on weekly year-round departures. The per person rate is from $6,498 ($1,880 single supplement) and children from $3,698. Guests experience sunken volcanoes, a spectacle of wildlife and sumptuous sundowners in the Serengeti. Tanzania's Great Rift Valley is home to Serengeti National Park, the Ngorongoro Crater and Mount Kilimanjaro, three of Africa's most prized attractions. Also there are evening game drives, stalking big game and exploring diverse ecosystems that may reveal, among others, baboons, monkeys, elephants, buffalo, wildebeest, zebras, giraffes, the famous tree-climbing lions, black rhino, wildebeest, zebra and eland.
Austin Lehman Adventures, www.austinlehman.com