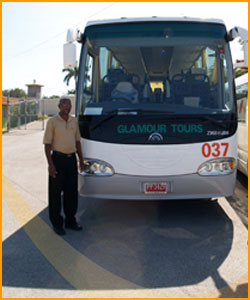 Another significant international award has been added to Glamour Destination Management's accolades. The company has been voted "Best DMC in Jamaica 2012" for the annual MICE Report Awards. The award is administered annually by UK-based magazine The Mice Report. The company was recognized for its excellence in the meetings, incentive and business travel industry through an exclusive range of influential voters.
Being the first DMC to be launched in Jamaica in 1987, Glamour DMC aims to provide constant attention to details, creative skills, customer centric operations and implements DMC best practices. "I am delighted to announce that Glamour DMC has been voted by our readers as the Best DMC in Jamaica for The Annual MICE Report Awards 2012", said Charles Vandeleur.
The award acknowledges and showcases those leading organizations whose innovative products, state-of-the-art facilities and exceptional services epitomize the pinnacle of quality in the world-wide MICE industry.
An elated Myrtle Dwyer, Director in charge of Sales and Marketing at Glamour DMC, expressed her gratitude to all who voted for the company and stated that "while the award was unexpected, it didn't come as a surprise primarily because the company was built on the basis of effective communication and service excellence which is an integrated approach."
She further articulated that "DMCs are hired to be creative, leaving a long-lasting positive impact and we have done well pleasing our clients in this regard."
Not only does Glamour continue to flourish in the MICE industry, they have implemented their concierge department offering planning in personalized tours and services as well as the expansion of their transportation department which saw the addition of luxury vehicles. As part of its diversification campaign, Glamour DMC is also bringing its expertise in the area of audio visual production as its newest service offering.
Glamour DMC, www.glamourdmc.com