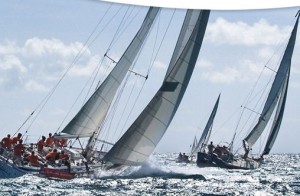 With a location adjoining one of the Caribbean's favorite sailing grounds, a wealth of inlets and bays for sheltered anchorages, a full range of marine services and yachting resources as well as international air access, Grenada is emerging as one of the premier yachting centers in the region.
This position is reflected in tagline for the new branding, "Grenada Grenadines Yachting: We Are Sailing," which is being launched by the Marine and Yachting Association of Grenada (MAYAG) next week at the Toronto International Boat Show.
Home to three international yacht charter companies – The Moorings, Sunsail and Horizon Yacht Charters – people from all over the world charter their yachts in Grenada. The three-island nation comprised of Grenada, Carriacou and Petite Martinique is positioned for a one-way charter and boasts a temperature climate and location outside of the hurricane belt, making Grenada a safe haven for storage.
"The yachting industry is one of the primary drivers of travel to Grenada," said Dr. George Vincent, Minister of Tourism, Civil Aviation and Culture. "Our abundant natural resources and authentic onshore attractions round out a superior sailing experience, while visitors who enjoy them are simultaneously contributing to the island's economy by supporting our local tourism-related vendors."
There are eight marinas that offer everything from rural low-key tranquility to super yacht facilities. Marinas on Grenada offer customs and immigration clearances in and out, full provisioning service, taxis and island tours and more.
Once a yacht is anchored, visitors can explore beyond Grenada's marinas and become immersed in the island's authentic culture and very special visitor experience.  Sailors may choose to wander the island's pristine beaches, snorkel or dive the world famous Grenada Underwater Sculpture Park, explore the lush rainforest, relax by a waterfall or step out and lime with the locals at one of the island's beach bars.
Grenada Board of Tourism,  www.grenadagrenadines.com; Marine and Yachting Association of Grenada ( MAYAG), www.grenadagrenadinesyachting.com