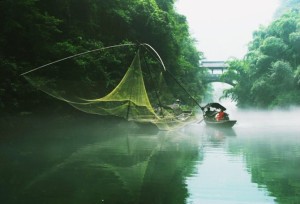 Just months away from the completion of its fleet-wide renovation project, Victoria Cruises has launched its 2013 brochures with updated schedule and itinerary information on its five-star river cruises through China's mist-shrouded Yangtze.
Rates for 2013 departures of Victoria Cruises'  Three Gorges Highlights program in a private balcony Superior Stateroom begin at $880 per person, based on double occupancy. A shore excursion package inclusive of all standard excursions costs an additional $90 per person. Standard excursions include tours of Fengdu and the Three Gorges Dam, as well as a scenic journey on a traditional sampan through tranquil Shennong Stream.
Four-night upstream departures out of Yichang will continue to operate daily excluding Tuesdays, while three-night downstream cruises will now depart Chongqing six days per week from Sunday through Friday. Victoria Cruises will now be offering daily departures for the Three Gorges Highlights programs during the summer.
Victoria Cruises' new Tribe of the Three Gorges optional excursion will be a permanent fixture on all upstream departures of the Three Gorges Highlights program due to rave reviews from passengers.
Offering an introspective glimpse into local life in the Xiling Gorge region with opportunities to see Toad Spring, statues of the ancient Ba nationality, scenic Dragon Stream, Monkey Hill, Lover Bridge and Huanglong Waterfall, the optional excursion will cost $42 per person.
Guests sailing on upstream and downstream cruises can participate on an optional excursion to White Emperor City, overlooking the Western end of Qutang Gorge.
For passengers seeking the complete Yangtze River experience, Victoria Cruises' eight-night upstream and six-night downstream Grand Yangtze Discovery program encompasses the full navigable length of the river between Chongqing and Shanghai.
The program includes all the highlights of the shorter cruise with additional sightseeing east of Yichang, including cultural Wuhan and the scenic Yellow Mountain UNESCO World Heritage Site, as well as Nanjing, where Victoria Cruises will once again feature excursions to the Sun Yat-sen Mausoleum. Incorporating a walk to a Qing Dynasty-style bazaar surrounding a Confucian Temple, the Sun Yat-sen Mausoleum excursion was discontinued on upstream cruises in 2012, but is now back as a result of popular demand.
All programs use new or newly-renovated five-star ships with luxurious amenities, exciting onboard activities and authentic cultural performances during the evenings.
Victoria Cruises, www.VictoriaCruises.com