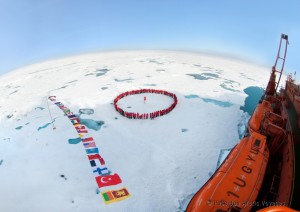 Expedition Cruises/Poseidon Arctic Voyages, which has operated two-week tours to the North Pole since 2000, is nearing yet another sellout year. Two of the four 2013 sailings are sold out, but berths are still available for cruises on June 19 and June 30. Names are also being accepted for the waiting list in the event of cancellations.
The trips begin in Helsinki, Finland, from which passengers fly to Murmansk, Russia, board the Russian nuclear icebreaker 50 Years of Victory and journey through the islands and archipelagos of the Arctic, the Barents Sea and Franz Josef Land.
The trip is truly a once-in-a-lifetime opportunity to explore the vast Arctic landscape and photograph its natural beauty. The Arctic is home to polar bears, walruses and many species of birds, as well as mysterious geological formations found nowhere else on earth. The trip is made by sea, aboard the icebreaker; in the air, via helicopter and hot-air balloon; and on land, as travelers stand at exactly 90 degrees north at the top of the world. They also enjoy a barbecue on the ice, fine dining and, for the more daring and adventurous, an icy plunge into the Arctic Ocean.
Expedition Cruises,  cruises@expedition-cruises.com,  www.expedition-cruises.com