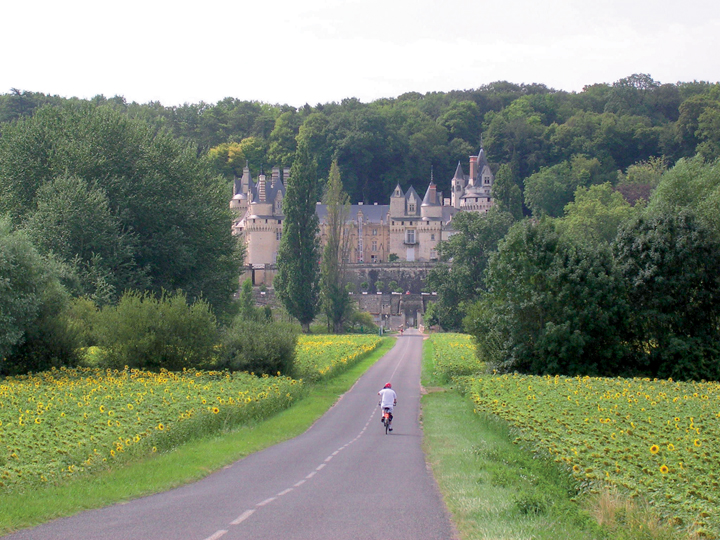 Taking a two-wheel journey back to its roots, Austin-Lehman Adventures announced a 35th anniversary cycle tour of France's Loire Valley hosted by ALA European Director Ron van Dijk who guided the company's first adventure travel trip in this region over three decades ago.
According to van Dijk, nearly everything has changed one way or another over the years with the exception of "the landscape, the gentle Loire River, the beautiful stone villages and towns, and the authenticity of the French cuisine."
The eight-day/seven-night anniversary trip is July 13-20, 2013. The per person, double occupancy rate is $3,498 (single supplement $880).
Yesterday's 10-speed bikes are replaced with today's 27-speed bikes and lightweight aluminum frames. Guests even have to option of an e-bike to provide welcomed assists up hills and inclines. Today's tour is shorter and is less about the number of kilometers covered and more about the cultural experiences enroute.
"All in all, everything got only better, if you overlook the fact that the 1979 tour was for 15 days/14 nights and cost only $648 per person. Then our group consisted of about 40 guests, serviced by three guides. On today's adult trips we now cap it at 12 guests, accompanied by two guides, so you can imagine that the level of service has greatly improved and trips have become much more personalized."
Van Dijk noted that most locals can now speak/understand English, making it easier to ask questions and be understood when traveling. Bicycles are more comfortable with straight handlebars that are better for sightseeing. The infrastructure (bike paths) has greatly improved. Participants stay at four (instead of two) star hotels, enjoy gourmet meals and drink fine wines.
A few tour highlights of the Loire Valley anniversary tour that begins in Versailles and ends in Tours include pedaling to King François I's Château de Chambord and counting the staircases in the magnificent 440-room estate, practicing French with a farmer at an open-air market in Loches, riding to Le Clos Lucé in Amboise, the last residence of Leonardo da Vinci and home to his many inventions, sipping award-winning wine at the world-famous Chinon and Cravant wineries and dining like royalty at the Château de Pray.
Joining van Dijk on the tour will be two guests who pedaled the same trip with him 35 years ago. Chuck and Judy Silberstein are two alumni travelers who have done more than 50 bike trips with Ron and ALA.
Austin Lehman Adventures, www.austinlehman.com