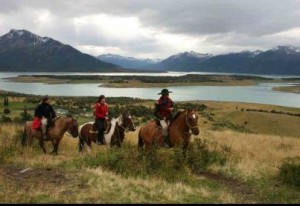 Horseback riding through the hidden glaciers in Argentina is the ideal program for those horse lovers that are willing to go out of the ordinary traditional trips. It is a great option for families or groups of friends. The riding schedules offered by Estancia Nibepo Aike are not that long, and are adapted for those who know how to ride and want to be a part of the scenery for four days.
The multiple four-day program combines horse riding and trekking exploring remote parts of "Los Glaciares" National Park, where Estancia Nibepo Aike is located. A unique proposal with a main objective: make the traveler feel part of the scenery and nature. Two nights will be provided in a typical out post 'Baqueano's' strategic place to work the land and the spot where climbers stop before kicking off their journey.
Surrounded in the vastness, during the tour riders will have magnificent views of the four main Hidden Glaciers: Frias, Gorra, Grande and Dickson while enjoying nature at its best. There are regular departures on the first Thursday of each month. The groups are limited to a maximum of 6 riders. Rides can also be arranged in private. Despite not being a difficult terrain, entrants must have experience in horseback riding of at least six hours a day.
Estancia Nibepo Aike, www.nibepoaike.com.ar