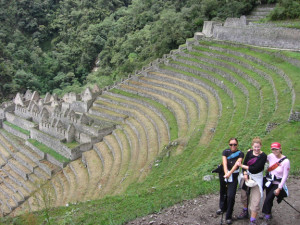 Austin-Lehman Adventures introduced another first in adventure travel – glamorous camping (a.k.a. glamping) along Peru's legendary Inca Trail to Machu Picchu.
New for 2013 is a Peru – Inca Trail Glamping trek September 7-16, 10 days / 9 nights at $3,898 per person double ($880 single supplement) inclusive of four on-trail days of exploring archaeological sites in ecological zones from high desert to alpine to Andean tropical rain forest, culminating with an arrival at the ruins of Machu Picchu.
Troy Glennon, named one of the world's leading experts on Peru travel in Condé Nast Traveler's 13th Annual Top Travel Specialists list for 2012, will be on staff as special co-host.
The trip begins in Lima where guests are met at the airport for transfers to a four-star hotel. Day two brings a flight to Cusco and tours of, among others, this Colonial city and Koricancha, the most sumptuous temple of the Inca culture, and the ruins of Sacsayhuaman. Day four goes to the Sacred Valley and Awanacancha, the llama project where guests learn about the South American camelids: llamas, alpacas, and vicuñas and have the chance to see the traditional weaving and dying techniques which have been kept by the local people for centuries. Later in Pisac, a connecting point between the highlands and the jungle, guests transfer to Ollantaytambo, one of the last Inca cities still accessed on foot.
The glamping-while-trekking adventure begins on day five through semi-arid terrain along the Urubamba River and views of snow-capped mountains. The next morning guests walk to the Warmihuañusca Pass to enjoy distant views of the Runkurakay ruins. Day seven includes and exploration of the Runkurakay ruins before trekking to the Sayacmarca ruins. The next day guests trek down trail through the Andean cloud forest rife with orchids and epiphytes to Wiñay Wayna ruins, the most important after Machu Picchu, and then toward Inti Punku the last pass before the final climax. The day ends at EL Pueblo de Machu Picchu for an overnight before exploring the site early the next day before the crowds arrive. The transfer back to Cusco is on day 10.
Austin-Lehman Adventures, www.austinlehman.com