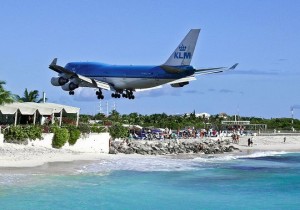 Princess Juliana International Airport in St. Maarten has just closed on a $132 million bond which will enable the airport to embark on a major improvement and expansion program.
Some of the key improvements planned include runway rehabilitation, construction of new taxiways to increase runway efficiency, expansion of the aprons to provide additional aircraft parking and acquisition of property for future expansion.
"We are all very excited about both the high bond rating from Moody's and the funds that will result from the $132 million bonds we just closed on," said Regina LaBega, Managing Director of Princess Juliana International Airport Operating Company, N.V.
She added that the issuing of these bonds will enable them to welcome more international flights as well as the growing number of private jet owners that want to come to the Caribbean island.
Princess Juliana International Airport, www.pjiae.com