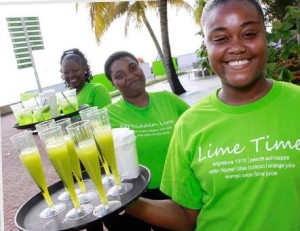 The performers have been booked, the menu has been finalized and Hyatt Regency Trinidad stands ready to welcome party-goers for its third annual LIME Fete. Carnival revelers from around the world will congregate in Trinidad for Carnival and the event known worldwide as the Ultimate Lime.
Celebrating its third year, the annual fete with its "white with a touch of lime" dress code will take place on the waterfront at Hyatt Regency Trinidad on Wednesday, February 6, 2013. A portion of this year's proceeds will benefit the local Rainbow Rescue Home for Boys.
The hotel is treating guests to the Ultimate Lime celebration, full of island and international cuisine, Carnival costumes and music to benefit an important cause. In 2011, the hotel donated a portion of the LIME proceeds to the Christ Child Convalescent Home through a partnership with United Way Trinidad and Tobago. In 2012, the hotel provided a donation to the Heroes Foundation to benefit their youth mentorship program. This year a portion of the proceeds will go to the Rainbow Rescue Home for Boys, a local organization aimed at protecting and guiding young men to make smart life decisions.
Event attendees will enjoy slow-roasted meats grilled on seasoned coals and smoked woods; Atlantic, Pacific and Caribbean seafood; local authentic island fare; and vegetarian specialties. VIP guests will be treated to a selection of sushi, lobster and oyster bars, rib-eye steak, Alaskan king crab legs and Marquis Osetra caviar. Guests can then dance the night away with Lime Time and Forbidden Lime cocktails and entertainment by Kes the Band, Roy Cape All Stars featuring Blaxx, Bunji Garlin, Faye Ann Lyons, Nadia Batson and more.
Tickets are $275 per person for Platinum admission and $500 per person for access to the Diamond lounge.
LIME 2013, www.ultimatelime.com; Hyatt Regency Trinidad, trinidad.hyatt.com